Open Jumping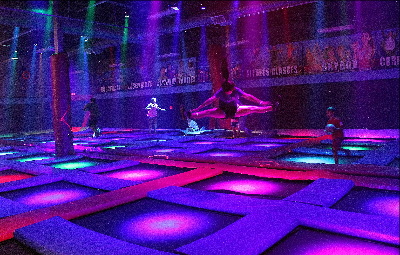 Words cannot describe the heart pounding thrill of soaring through the air on a trampoline! Until now you've had to settle for a backyard trampoline that was too small. One wrong move and you were eating dirt. Defy Gravity has changed all that with over 6,000 square feet of trampolines. Even better, our angled trampoline walls will return all stray jumpers back to where they came from and you can forget about keeping a watchful eye on the dirt. So go ahead, enjoy endless hours of being a kid at any age, only at Defy Gravity!
Please reserve jump time by clicking the "Reserve a Time" button at the upper left hand corner. Walk ins are welcome but are subject to availability. The capacity on our trampolines is 66, and does fill up quite often. Please arrive 20 minutes early to finish the check in process.
All jumpers, regardless of age, must sign a liability waiver. If a jumper is 18 or younger, the PARENT OR LEGAL GUARDIAN of the minor must fill out the waiver on their behalf (no exceptions). All jumpers must have DEFY GRAVITY SOCKS or DEFY GRAVITY SHOES.