Glow in the Dark Dodgeball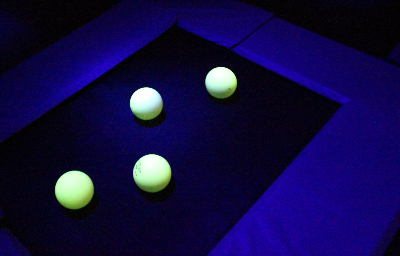 Thursday Night Glow in the Dark Dodgeball
Thursday nights from 5:00 PM to 8:00 PM.

Please arrive at 4:45 for check-in.

Double Elimination Tournament.

Games will begin promptly at 5:15 PM.

Bring a Team of 4, or show up as a Free Agent.

Only $20 plus tax for 3 hours of entertainment!

FREE Gravity Socks and Wristbands included.

Champions will receive FREE entry for the Tournament the following week.

Walk-in availability only.

Online reservations for Glow in the Dark Dodgeball will not be available.

No long-term commitment - just pay each Thursday you choose to play!

Access to the rest of the park when you are not playing!

Must be 13 years or older to participate.
Tournament Details
Players without a team will be split into teams of 4 at the beginning of each Thursday night.

Teams will be randomly drawn for beginning tournament placement.

Matches are 8 minutes long, with a 2 minute break between each game.

The team with the most games won in 8 minutes wins the match.

If tied after 8 minutes, there will be a single TIE-BREAKER game.

If tie breaker goes the full 8 minutes and no team has won, the team with the most players still in the game will receive the win.
---
RULES
You are out if:
You are hit with a ball anywhere on your body.
You throw a ball and someone on the opposing team catches it.
You cross the center boundary, including reaching over for the ball.
You argue with the referee.
You use any vulgar language.
You throw a ball, it is deflected off a player's body and another opposing team player catches the ball.
When you are out:
Walk to the north wall with your hands wrapped around your head.
Other Rules:
Only 1 person is out per throw.
A ball is deemed dead once it touches anything.
Referees have final say.
No headshots are allowed.
You may use a ball to deflect incoming throws.
Dodgeball Leagues coming this Fall!
---